Nikita Hair is one of Europe's largest and leading hair salon groups and the adventure continues as we grow in the U.S. Over the course of 35 years, we have had the pleasure of serving several million clients. Our highly skilled hairstylists across the world are ready to provide you with great hair and a great feeling!
Mother and Daughter Powerhouse Duo
Our vision is: "Together we will create the greatest adventure in hair and beauty history!"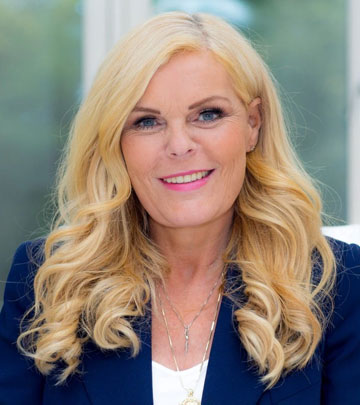 Inger Ellen Nicolaisen is a self made entrepreneur from humble beginnings, and  she became a mother at the young age of 15 years old. The responsibility of having a child pushed her in developing her business skills. At the age of 16 she started her first business selling children's clothes. In 1984 she founded Nikita Hair, with her first hair salon in Norway. Nikita has grown to become one of the largest and leading hair and beauty companies with over 150 salons and over 1000 employees in Europe and USA.
With a fighting spirit, enthusiasm and passion, the founder of Nikita Hair, Inger has the vision: "Together we will create the greatest adventure in hair and beauty history!" 
Not only has Inger grown a large, strong company, she has raised a large family as well. Inger has given birth to 3 children but has 14 children who call her mom. Eleven of them are from an orphans home in Eastern Europe. It is truly a family business, as 8 of her children work in the company. Her love for children expands beyond her own family. She is the founder of A Hand to Children foundation. For more than 2 decades she has actively worked to help children.
Inger has a progressive and outspoken leadership style, and a unique ability to build and inspire others. She has set an example and led the way and, consequently, has received various awards and prizes for her leadership skills, including 'Entrepreneur of the Year' and 'The Art of Leading' award. She has also been proclaimed 'Business Woman of the Year' in Norway
Daughter of Nikita's Founder Inger Ellen Nicolaisen, Christinah Nicolaisen took over as International CEO in 2014 and has continued to grow the company. Christinah started as a 12 year old working her way up through the family business. She has had a strong grasp of the hair and beauty industry from a young age. Like her mother she too is an ambitious career-driven woman. Christinah studied business and fashion at European Business School of London, London College of Fashion, Central St. Martins and several leading universities in Spain, Mexico and France.
Legacy Through Leadership
Inger's motto: If you think you can do a thing or think you can't do a thing, you're right! – Henry Ford
WE LOVE TO BUILD!
We build people and businesses for success. We love to see them succeed. Through professional development, personal success plans, and goals, we help you to release your full potential.
We strongly believe in our team members and RAISE them up! We inspire, we listen, and we SEE every client and team member. Our enthusiastic attitude and generous praise lead to great results!
WE SEEK SOLUTIONS!
We applaud initiative and innovation. Our focus is our solutions. We are seeking talented team members who have passion and values that match our brand values. We say what we mean, and we mean what we say!
WE ARE STRONG, CLEAR, AND GREAT ROLE MODELS!
We are clear, with high expectations, and we are always "hands on". We earn credibility through being a great role model.
Leading by showing the way, and strong enough to make unpopular decisions when necessary.
Our Leadership Philosophy